I would like to re-kindle an old tradition of adding some of Doc Hirschberg's poems that we hear throughout the summer in each newsletter.
When you get to know a fellow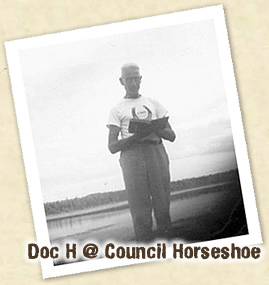 "When you get to know a fellow,
Know his every mood and whim,
You begin to find the texture
of the splendid side of him.
You begin to understand him,
and you cease to scoff and sneer,
for with understanding, always
prejudices disappear.
You begin to find his virtues and his
faults you cease to tell,
For you seldom hate a fellow,
when you know him very well."
Edgar A. Guest (1881-1959), first poem in A Heap O' Livin' (1916)

Let me live in a house by the side of the road
Let me live in a house by the side of the road,
and be a friend to man.
Sam Walter Foss (1858-1911), conclusion to a poem published in Dreams of Homespun (1897);

Re-printed from December 1975 newsletter
Dear MEMBERS OF THE HORSESHOE FAMILY:
In 1932 Camp Horseshoe was founded by "Doc' Hirschberg. His love was working with boys, helping them to understand and live with nature, and thus helping them to become fine citizens of this world. The philosophy of Camp Horseshoe has never changed, so indirectly and for some of you, directly, Doc has had a great influence on your lives.
It is with great sorrow that we must tell you that our beloved friend passed away on December 14th. Yet another leaf has fallen from our Horseshoe Tree of Life, but our memories are many and cherished. These words of his, I believe, summarize his feelings for all;
"These are the things I prize
And hold of dearest worth:
Light of sapphire skies,
Peace of the silent hills,
Shelter of forests, comfort of the grass,
Music of birds, murmur of little rills,
Shadows of cloud that swiftly pass,
And, after showers,
The smell of flowers
And of the good brown earth,
And best of all, along the way, friendship and mirth."
Henry Van Dyke (1852-1933), excerpt from "God of the Open Air," published in Songs out of Doors (1904).

Doc H, will always be with as thru his words at Council Horseshoe