Leadership at Camp Horseshoe Summer Overnight Camp for Boys
Hail to the forest! Hail to the streams!
Hail, Hail Camp Horseshoe! Camp of my dreams.
When Fran and Jordan Shiner revived Camp Horseshoe in 2003, they dreamed of a place where boys could come for incredible activities and adventures, and leave with exceptional skills and best friends for a lifetime. With their over fifty years of combined summer camping experience, Fran and Jordan used their vast knowledge to rekindle the torches of Horseshoe and create a dynamic boys camp. They have awakened the indomitable spirit of "The Shoe" for a new generation of boys by blending Horseshoe's seventy-five-year-old camping traditions with innovative activities, state-of-the art facilities and boundless energy. Bringing this legacy to each Horseshoe camper is their passion, their purpose, and their pledge.
Experienced, Passionate Leadership
As parents of three camper-aged children, Fran and Jordan understand how to give each boy the guidance and support needed to ensure a phenomenal summer. As lifelong campers and career camp directors, they have a strong belief in the power of the camp experience. Jordan was a camper at the original Horseshoe, and has dreamed of running a camp since he was 16 years old. Fran has also worked in summer camps since the age of 17. Having met at camp, they now pour their shared vision and passion for camping into Horseshoe.
Fran and Jordan's love for Horseshoe and its campers shines through in their hands-on approach, commitment to each boy, and dedication to all facets of the Horseshoe program. Every element of a Horseshoe summer is thoughtfully planned and implemented to make certain campers enjoy the very best instruction, activities, and experiences available anywhere. During the off-season, Jordan teaches high school history and coaches numerous sports, while Fran oversees Horseshoe year-round. Fran and Jordan are active members of the American Camping Association and leaders in the summer camping community.
The Incomparable Horseshoe Team
Teaching, leading, caring—our incredible Horseshoe team is made up of dedicated, highly-trained staff members committed to making a positive impact in the lives of each boy. Horseshoe staff members are strong role models who provide high quality instruction, instill self-confidence, and encourage campers to embrace challenges. The Horseshoe team is proactive in making sure campers develop friendships and support each other. All Horseshoe staff members actively participate in an intensive nine-day staff training. We have extremely high staff return rates, and many of our top leadership are camping professionals who come back to Horseshoe summer after summer.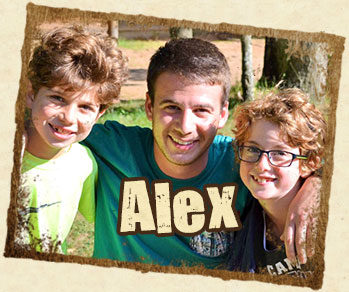 Alex "Berms" Berman - Assistant Director, Program Director, Bison Chieftain
Alex has been at The Shoe since 2011 and works for camp year-round. Currently living in Chicago, IL, Alex interviews, travels, and hires our staff while attending numerous camp fairs and conferences not only across the country, but around the world as well. Alex was both a Pioneer and Ranger counselor in his 3 years as cabin staff, while working his way up to Program Director and Assistant Director. Alex does all the scheduling at camp, and also manages camp's social media pages. When not in the office, Alex can be found all over camp driving ski boats, belaying on the climbing wall, along with being the camp's inspector for cabin clean-up! Alex also works with our oldest campers in helping sponsor the Camp Horseshoe Foundation, aiding local Rhinelander charities. In the fall, Alex will be taking part in the Ezersky Camp Safety College course, certifying him as a Safety Director.
Robbie "Bob" Deutsch - Associate, Director, League Commissioner, Division Head Director, Friend Chieftain
Bob has been involved with Camp Horseshoe since 2004, as a camper for 6 summers and the rest as part of the Horseshoe staff. Bob was a cabin counselor for 6 years, working with a wide range of kids from Pioneers, spanning all the way to Rangers in Cabin 14. In 2016, Robbie became an Assistant Director, where he began working as the Division Head Director, League Commissioner as well as the Head of Basketball. Bob is from Highland Park, IL and graduated from Indiana University in the spring of 2015 with a degree in Sport Communication. In the offseason, Bob works in the Special Education department at Deerfield High School where he is also an Assistant Coach for the Boys' Varsity Basketball team.
Jacob Ferber - Director of Evening Programs and Special Events, Tripping Director, Division Head, "Joyful Sun"
This will be Jacob's 14th year at Horseshoe, 8 as a camper and 6 as a staff member. As head of Evening Programs, Jacob plans and runs nightly activities such as Jordan's Jamboree, Counselor Hunt, and Casino Night. As well as running the nightly Evening Programs, Jacob is also in charge of creating Theme Days throughout the summer. During these Theme Days the entire camp can be transformed into a Carnival or even the Wild Wild West. Along with being a cabin counselor for 6 years, in 2016, Jacob became the Ranger Division Head. As a seasoned outdoorsman, Jacob will also be assisting in the camp's Tripping Program. In the offseason, Jacob attends Florida Atlantic University and is studying Hospitality Management.
Chris Harms - Director of Evening Programs and Special Events, Division Head, "Cheerful Moon"
Chris Harms has found himself on the shores of Lake Snowden since 2005. Originally from Pewaukee, Wisconsin, Chris is a recent graduate from the School of Business at the University of Wisconsin - Madison. Passionate about making moments matter, Chris brings innovative programming to Camp Horseshoe. In recent years, Chris has helped create some of the most memorable Evening Program, Theme Day, Green/Blue and Shoe Madness announcements. From the Green/Blue t-shirt drop from an airplane to popping up on the roof of the Mess Hall, Chris enjoys keeping campers on the edge of their seats with excitement! Chris is also the head of the camp's Archery program and is a certified Archery instructor.
Operations Team
Roddy Macmillan
Originally from Penrith, England, Roddy has been involved in camping for forty years. He started as a counselor at Camp Algonquin and after a number of years owned it before meeting Fran and Jordan in 2003. During those years he worked full time as the head of science and assistant principal in an English secondary school. Since Camp Horseshoe opened he has worked as the director of operations and can be found all over camp.
Bob Stewart
Bob first arrived along the shores of Lake Snowden in 1976 as a camper . After completing a ten year teaching career in Illinois he was blessed with the opportunity to relocate to Rhinelander and pursue a position in youth counseling. With over twenty five years of teaching and counseling under his belt Bob has retired from his professional career with youth. He continues to help at The Shoe with special projects support while enjoying the Northwoods and camp year round.